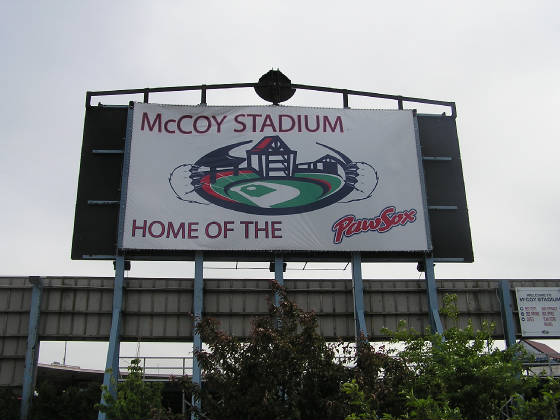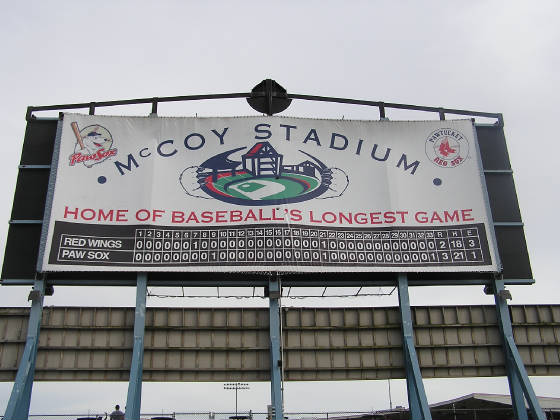 TEAM ::: PAWTUCKET RED SOX
LOCATION ::: PAWTUCKET, RHODE ISLAND
MY FIRST GAME ::: APRIL 14,1995
OPPONENT ::: TOLEDO MUD HENS
LEVEL ::: INTERNATIONAL LEAGUE 'AAA'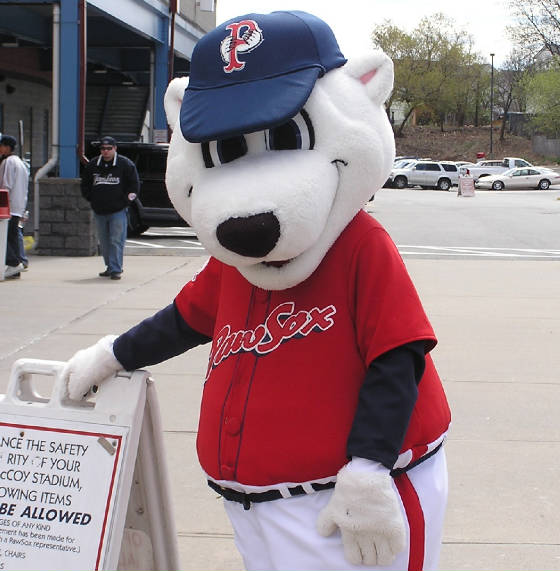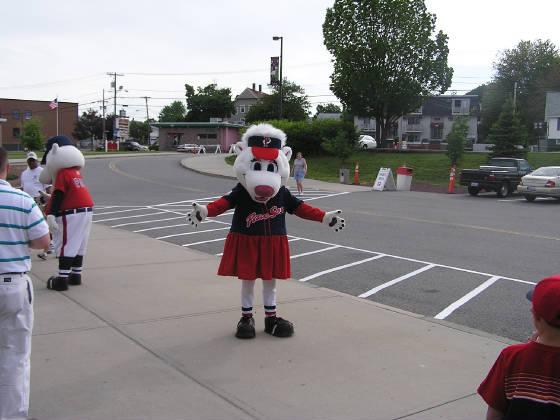 RATINGS
BALLFIELD ::: B+
SCORBOARD ::: B
FOOD ::: A
FACILITES ::: B+
MASCOT ::: A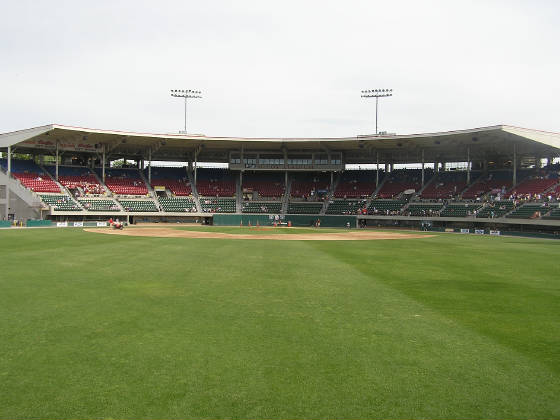 MY TAKE ON THE PARK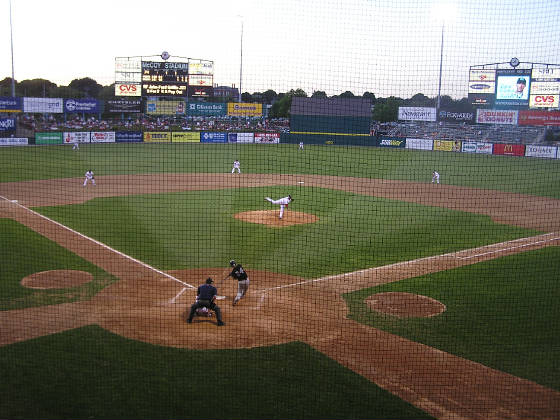 The first thing I noticed as I drove down a residental street on my first visit to this classic park was a sign on front of a very small parking lot. "Park at your own risk." The sign still stands today and as recently as 2010 parking was still free here at McCoy. The renovations are what are noticed now and it does start with the parking. Parking now wraps around 75% of the park making a trip to McCoy that much easier to make. Now, aside from the "Park at your own risk" sign, there is also a big statue of the Red Sox mascot Paws welcoming you with open arms.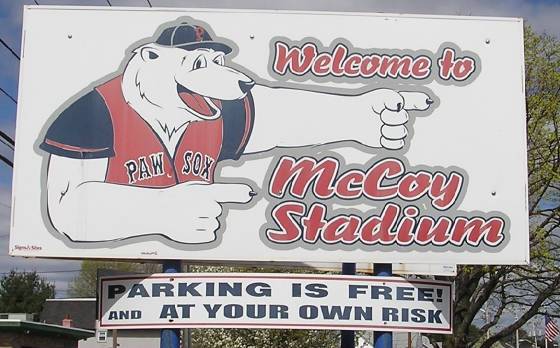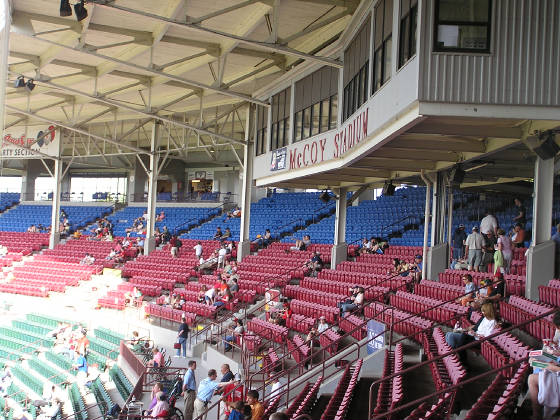 In 1995 to enter McCoy, you walked up one of a few spiral ramps decorated with "Paw" Sox players of the past. It made for a historical stroll to the game. After the construction, one of the ramps is accessible to exit, but when entering past the ticket taker, it is a walk up a flight of stairs to the main concourse.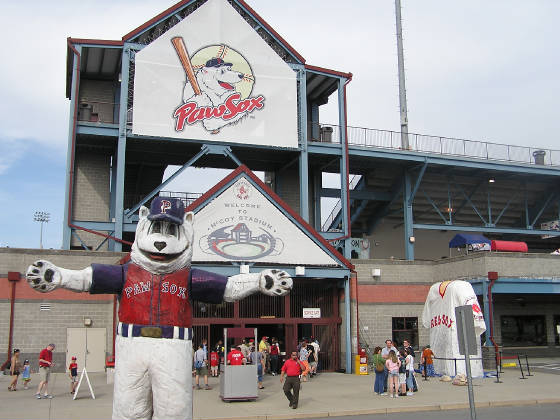 The main concourse is now spacious with a picnic area on the 3rd base side. Seats were added in the outfield so you can now walk around almost all of the stadium. What is still present but when you open up space, things get lost are the smells which make an old ballpark well, a ballpark. The aromas of cooking sausage now go up in the air instead of pleasing fans waiting to get to their seats. The sausage are a favorite here because a spicy sausage actually means spicy. Overall, the food is good and as far as ballpark prices go, McCoy's are on the low end of the scale.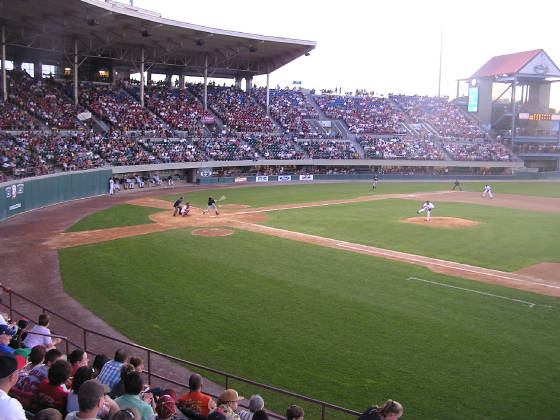 The renovations are McCoy are seen everywhere, but so however is what McCoy used to be. The mix works very well with the original seating area which is mostly covered and still has poles. A fancy huge video board would never work here, nor would anything that would distract one from the game. At McCoy, there is a video board that stays in the background doing its job without shouting to everyone that it is. Poles and a quiet scoreboard, all works well at McCoy.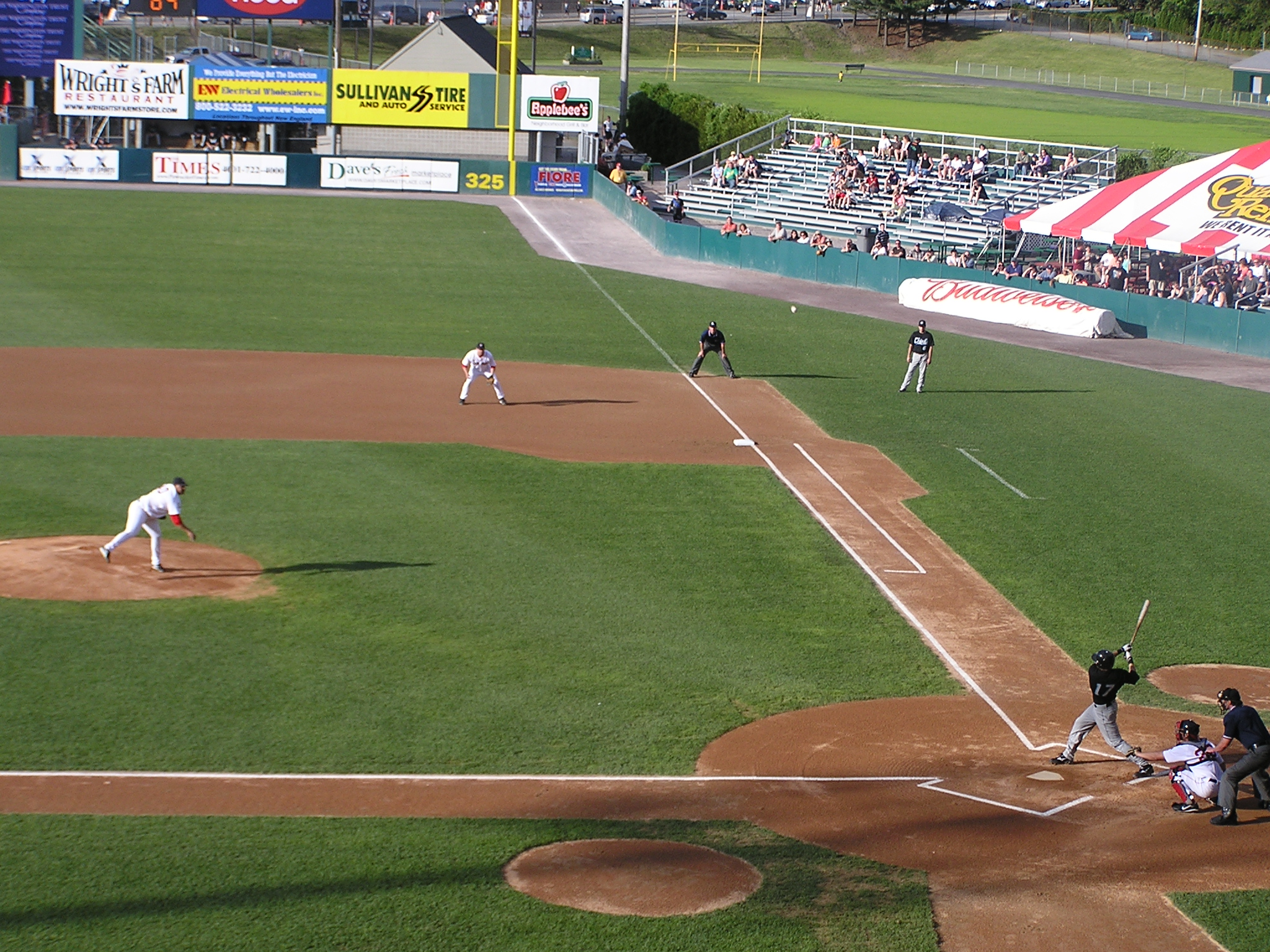 One aspect of the park that has not changed is the tradition of autograph seeking that has been going on forever. During batting practice you will see cut out milk cartons, laundry detergent containers, or a beach pale hanging from fishing lines with something ion them for a payer to sign. On the other end, players digging into these homemade contraptions accommodating the fans ad continuing the tradition. It is a great scene and one that also eliminates the sounds of screaming people begging for autographs.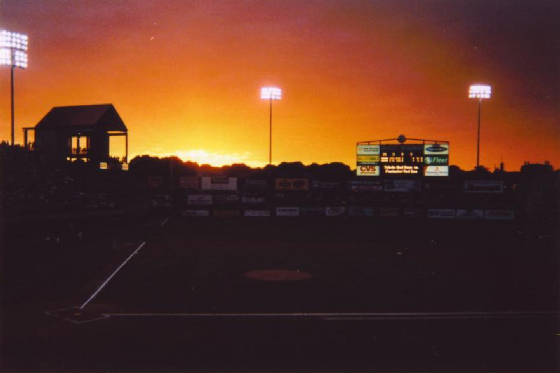 At McCoy Stadium, as with all of New England, the Sox are the main attraction. Ticket prices at McCoy are lower than many 'A' level games making this an affordable destination to see the future Fenway stars. Just make sure before leaving for the game you find that empty container of Tide and attach it to your fishing pole for some Paw Sox autographs.

On your way to the park on I-95, take a look for the world's largest termite, Nibbles, who rests along I-95 in the city of Providence just south of Pawtucket.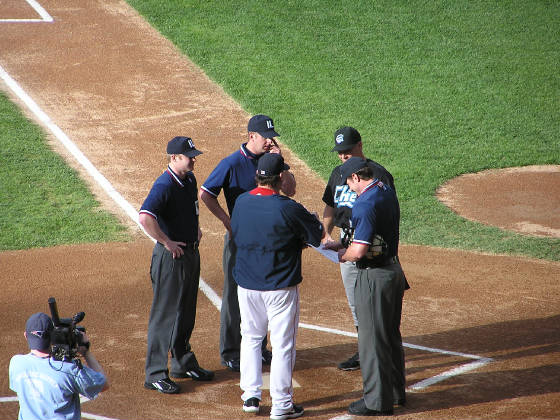 THE LINE UPS
TOLEDO MUD HENS MANAGER :::
10 TOM RUNNELLS

PAWTUCKET RED SOX MANAGER :::
26 BUDDY BAILEY

TOLEDO MUD HENS
4 Tarrick Brock rf
12 Craig Wilson 3b
18 Tim Leiper 2b
33 Ivan Cruz 1b
31 Derrick White dh
7 Rob Lukachyk lf
29 Justin Mashore cf
22 Kirk Mendenhall ss
17 Lance Rice c
26 Pat Ahearne p
32 Mike Christopher LP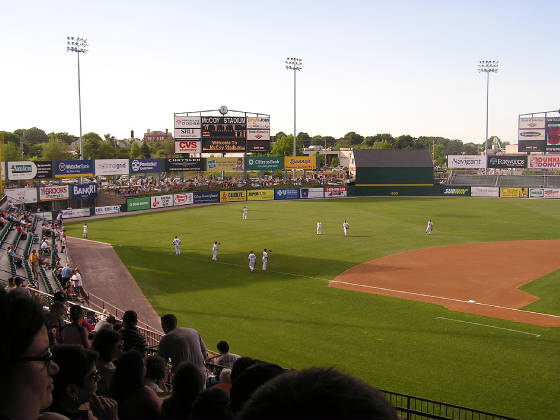 PAWTUCKET RED SOX

14 Aubrey Waggoner cf

23 Juan Bell 2b

24 Matt Stairs lf

37 Don Barbara dh

15 Victor Rodriguez 3b

22 Ron Mahay rf

20 Alex Delgado c

33 Jason Friedman 1b

25 Randy Brown ss

39 Dan Gakeler p

19 Dale Plummer WP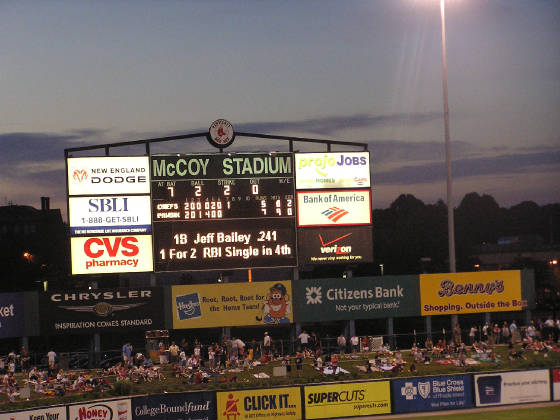 MUD HENS 001 100 000 2 9 2
RED SOX 000 000 012 3 9 0

TIME ::: 2:48
ATTENDANCE ::: 4,517
WEATHER ::: 50 / WINDY
SEND ME AN E-MAIL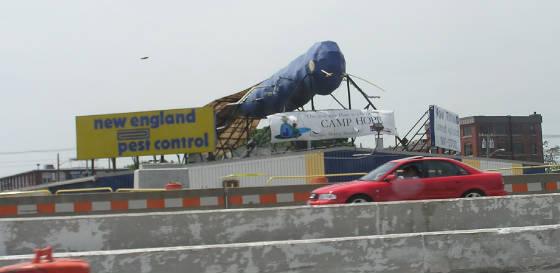 LINKS
The Official Web Site of the Pawtucket Red Sox
Located in Providence, RI, The World's Largest Bug
An Excellent hotel located just South of Providence,RI by the Airport - The Holiday Inn Express
Pawtucket weather from WEATHER.com

© 2000-2013 UNCLE BOB'S BALLPARKS
I AM IN NO WAY AFFILIATED WITH ANY OF THE TEAMS ON THIS PAGE ... THIS PAGE IS MEANT FOR INFORMATION PURPOSES ONLY.